The NCAA decided to stay out of the morality game this week, clearing Michigan State's football and basketball programs from the idea of violating the governing body's rules. John Engler, the school's interim president, responded to the ruling in a way befitting a child who is no longer grounded.
A child, mind you, who never fully grasped why the theoretical punishment could be coming in the first place.
During an appearance on the WMMQ-FM 94.9 pregame show Friday, Engler spoke words now far too associated with the Big Ten. The sort that ignores the larger picture, actual victims left in the wake of atrocities, and instead focused on how delighted he is his sportsball programs are back in the mix.
"It's a weight lifted off me, but the weight off the program is a big deal. Very big deal," Engler said. "We were excited to see the letter come back from the enforcement head at NCAA. They thanked Michigan State for their full cooperation, which is something we have pledged from the very beginning. And they made it clear, no further reason to investigate anything. Nothing else to be doing."
It is certainly worth noting the football and basketball programs were being eyed not because of the abominable Larry Nassar, but due to separate instances in which both were alleged to have handled numerous illegalities wrong and possibly purposely ignored information as a way to keep the status quo moving forward.
This NCAA ruling isn't about right or wrong, ethics or morals. It's whether or not the NCAA — an organization without subpoena power — could prove Michigan State violated any of its rules. It's a fact one needs to wash over them like a cold shower, as many old guard media have celebrated the governing body's ruling as if it is a form of redemption for the coaches and school.
Below is a screenshot of a Kirk Herbstreit tweet he would later delete. It highlights how the romanticism of college coaches corrupts the way we think about actually important issues that happen within sports. To godify those supposed leaders of men rather than even attempting to think a level of accountability could be had for those with the most power on a college campus.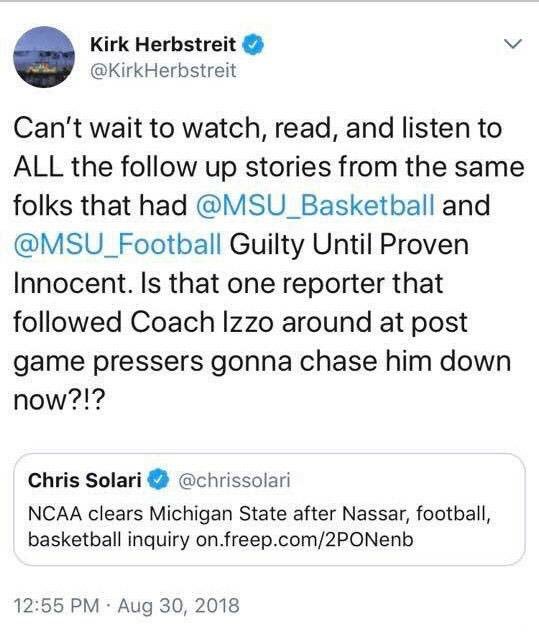 I've seen some strong reactions to my now deleted tweet about MSU. I apologize for the unnecessary dig at the reporters who worked hard on an important story.

— Kirk Herbstreit (@KirkHerbstreit) August 30, 2018
Herbstreit correctly pointed out the importance of innocence until/if proven guilty, but by mentioning reporters' attempts to ask Tom Izzo questions regarding the allegations, as if done with blind fury, suggests his mind was made up well before any investigation took place.

When allegedly awful things happen, it is a journalist's job to report on it. To do so, the person who would be most accountable, here being Izzo, needs to be asked difficult questions.

Izzo was asked those questions when the allegations surfaced. He chose not to answer them. However, whether he was advised to speak or not, the journalist still has an ethical obligation to keep pushing — otherwise people in power accused of inappropriate actions would continue to steamroll through life without consequence for their actions.

The NCAA reached beyond its jurisdiction with Penn State. The organization had to scale back punishments handed to the school during the Jerry Sandusky fiasco, in which the governing body tried to follow the scorned masses, all of whom were rightly angered by what was happening at the university.

However, it was a lesson learned for the NCAA, as it realized playing judge, jury and executioner for something as large-scaled as a pedophilia case was something best left handled by those equipped to do so. It now knows to stay out of the morality game.

Couple PSU with how Urban Meyer has largely treated the Zach Smith debacle at Ohio State, playing victim instead of acknowledging there are bigger things than football, and we have reached the peak of how absolute power in the land of college sports can turn more important issues sideways.

Engler, through blunt force ignorance, celebrated Tom Izzo and Mark Dantonio's NCAA clearance as if it was vindication for each as men, blindly accepting them as great humans at the expense of the potential victims who sparked the investigation in the first place.

"Obviously I've gotten to know them a lot better in a different role being here as university president, but these are men of great integrity. They're men of faith, they're men who lead their program, and they do the right thing," John Engler said. "Mark Dantonio, who had the most recent athletes who got in trouble, when there was a trouble, he handled it absolutely by the book. We were very comfortable in saying that. And that was the evidence that we could present to the NCAA. And when they reviewed it, they agreed with us."

People don't know what culpability, if any, Izzo and Dantonio had in any of the allegations. That much is clear. What we do know — thanks to the ample evidence provided through the Penn State, Michigan State and now Ohio State processes — is people tend to value sports, and those who lead and oversee it, over those who are sometimes victims because of the way it is treated.

It's wrong. Ethically and morally. As people, we should do better to remember the less famous, the ones left outside looking in after being chewed and spit out from this vicious cycle, are watching the accused celebrated as heroes for what is the essentially the NCAA getting out of its own way.

The year is 2018. People still wonder why victims often remain silent. How people who have suffered from the worst sort of abuse avoid going public with their stories.

Kirk Herbstreit's tweet declaring vindication and John Engler's celebration to the NCAA's clearance is why.

–

Joseph Nardone has been covering college basketball for nearly a decade for various outlets in a variety of ways. You can follow him on Twitter @JosephNardone.

Please follow CBB Today on Twitter @CBBToday and like us on Facebook.

Don't forget to subscribe to our newsletter below.

<!-comments-button-->